Thursday, July 22, 2010
SmartknitKIDS
.com Seamless Sock Review and Giveaway
I was given a wonderful opportunity to review seamless socks from
Smartknitkids.com
. I was not paid to do this review, my opinion's are real, from me, and from the heart!
This company has also graciously offered to host a giveaway for one of our members to receive three pairs of their very own!
Having an SPD child I know the difficulty in getting a pair of REAL seamless socks! I say real because I have gotten Lucas seamless socks in the past but they still had seams in them and he could tell they were there and wanted them OFF! I was elated when they told me I could do a review for them because I am impressed by a company that goes out of their way to help our special needs children and heard how wonderful these socks were!
Review
I was sent three pairs of socks to review and LOVE, LOVE, LOVED, every moment of it! Since we received these to review Lucas has not let me put any other pair of socks on his feet! He was so funny. He wiggled his toes for several minutes looking confused because he wasn't getting that irritating feeling that he usually gets when we put his socks on. Once he got used to them. He danced around the house and ran to the kitchen floor to slide! These are real high quality socks. I was even more impressed with the packaging that these socks came in.There is a little bug in the box for the kids to play with instead of it bugging them on their feet! LOL Just priceless!
On the right, Lucas is just realizing here that the socks don't bother him like they normally do.
On the left he is looking down at his feet in amazement that he doesn't need to rip them off! LOL
I highly recommend these to any parent who's child has major issues with textures touching them. I am a forever customer after trying these socks. Thank you SmartKnitKIDS.com for letting me do this review and hosting a giveaway for Lucas's Journey with Sensory Processing Disorder.
About SmartKnitKIDS.com,
explained on their site
SmartKnitKIDS®
patented seamless socks are perfect for children experiencing sensory processing differences, hypersensitivity or who simply can't stand annoying seams! These super soft socks for sensitive little feet will not wrinkle or bunch and are proven to reduce irritation.
No Seams to Bug Ya!
Completely free of seams, the patented kids' socks are designed to provide comfort and relief to children who struggle with "bumps & lumps" in their socks.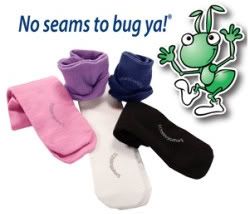 Reduces annoying wrinkling and bunching in the shoe
Corespun yarns using Lycra and form-fitting design result in children's socks that "hug" the foot reducing wrinkling and bunching.
The form fitting design also helps to keep socks on the wiggliest of toes.
UNIQUE NO HEEL DESIGN
"No heel" design allows children to put on socks with confidence and keeps little feet from outgrowing their socks so quickly.
Comfortable Non-Binding Top
Our non-binding Halo Top™ fits comfortably without slipping down the leg.Regular socks often have elastic bands at the tops of the sock that can often pinch, bind or be a source of irritation.
Keeps Feet Dry & Healthy
SmartKnitKIDS™ Socks are made with high-tech fibers that wick moisture away helping control odor or "stinky feet".
About SmartknitKIDS.com
,

from SmartknitKIDS.com about me page\
Tired of hearing her son scream "these sock seams keep bugging me," a mom decided something needed to be done. Every "seamless" sock her son tried had seams in it; there was not a truly seamless sock available. After explaining the frustrating morning routine to countless friends of her son's struggles with socks, she was finally given the name of Knit-Rite, a textile manufacturer, and contacted them with her request for a seamless kids sock.
After several requests for seamless socks from "desperate" parents, SmartKnitKIDS socks were created. Knit the same way a caterpillar spins its cocoon, SmartKnitKIDS socks are started at the toe and worked up toward the ankle. This process insures a 100% seamless sock, so there are no seams to bug ya! A form-fitting design also keeps those annoying lumps and bumps out of the socks.
Since its launch in 2003, SmartKnitKIDS continues to find new markets and grow every year. Super soft material and a seam free design make it the most comfortable kid's sock on the market.
SmartKnitKIDS come in a color for every personality: white, black, pink, purple, and navy. Ankle, crew and knee-high styles are available up to a youth size 8.

Knit-Rite, Inc. is a leading designer, marketer, and manufacturer of innovative textiles for medical and consumer markets. Founded in 1923, Knit-Rite remains committed to the continued research and development, manufacturing and distributing of products that deliver healthy benefits for a better quality of life.
Rules:
You may enter this giveaway daily. One entry per person, per day. Giveaway will begin on 6/30/10, 12:00 a.m. EST and end on to 7/22/10, 11:59 p.m. EST.
Winner will be chosen by random.org and notified on or around 7/23/10. Winner will have 24 hours to respond or a new winner will be chosen.
Thank you for entering our giveaway. Feel free to tell all of your friends about it so they have a chance to win too!