Sunday, July 25, 2010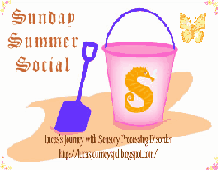 Welcome to Lucas's second Sunday Summer Social. If you are joining our gathering today please be sure to copy our button above and the linky code below and place it somewhere on your site so that others can join in on the fun of meeting new people and seeing some exciting new blogs and most importantly gain some new followers for your blog.
I will be hosting this blog hop on Sunday's and I should have it posted on Sunday mornings at around 12:00 a.m. (EST).
We also have a giveaway linky that we'll be posting every Friday called "
Lucas's Fabulous Friday Giveaway Gathering".
You will be able to post all of your giveaways that your blog is hosting at this gathering. .
Be sure to sign up to follow Lucas's Journey w/SPD to make sure you find out when the links are posted. Also be sure to enter some of our giveaways listed above.
Have a great time today and thank you so much for visiting today! I hope you get to meet lots of new friends and thanks for visiting Lucas's Journey with Sensory Processing Disorder.
While your here be sure to check out our friends here too! The More Friends the merrier!