Monday, October 18, 2010
SENSATIONAL CELEBRATION -
DAY 17
PLEASE NOTE: THESE ARE 24 HR GIVEAWAY!
ENTER NOW BEFORE IT'S TOO LATE!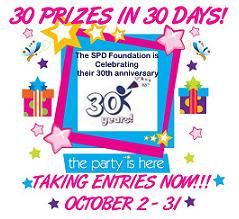 30 PRIZES IN 30 DAYS GIVEAWAY EVENT!
Please take a moment and visit our AMAZING sponsor!


Our giveaway is from:
If you haven't been over to visit Just Jewelry by Jessica yet, you have to go now! She has so many beautiful pieces! I wouldn't be able to choose if I won this GC!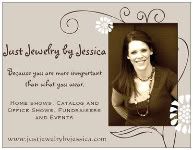 She was so generous with donating a gift card for our event! Thank you! With everything that she is involved with she still wanted to help us raise awareness for SPD!
Jessica also has a blog called Mia Ma Miah's Diaries! She is just so darn friendly! I've had the pleasure of talking with her and absolutely love reading her blog!

About Jessica (from her About me page)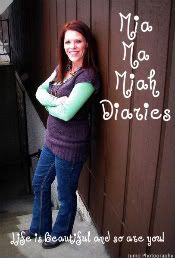 My name is Jessica Guthrie and I am a hairstylist, a mother of 3 girls, and a Consultant for Just Jewelry. I was born and raise here in Illinois in a part called the Quad Cities which is located on the Mississippi River border next to Davenport, Iowa. The best thing about me is I love what I do. Whether it is down time with family or making people look and feel their best. I have been a hairstylist for 16 years and continue to enjoy every minute of it. There is not one part of my job I like better than the other. I look forward to meeting new people and love growing my business. It is a passion and not many people can really say they love to work. I have become a better person and stylist because of my clients that have continued to follow me through all my lifes ventures. I wanted to earn a little extra spending cash so I began researching at home businesses that would incorporate into the salon. I thought to myself what would sell well? Then I thought jewelry! It never goes out of style. I then began researching the different jewelry companies. Lia Sophia, Silpada, etc. They all had great stuff but I could not see myself asking people to spend $50-$100 or more on an item. Then I came across Just Jewelry. Great jewelry items at affordable prices!
As a consultant and hairstylist I am able to share a personal touch to one's own style. Working in a salon I get the chance to meet all types of people and to be able to extend that service to beautiful jewelry is a great pleasure. Outside of the salon I offer home shows, office parties, fundraising and events. Its just another great way to be yourself and look great doing it.
We will hosting auctions through Ebay for some other MAJOR giveaways that they sent us to raise money for our event as well as donations that we receive from our visitors for hosting this fabulous giveaway!
Mandatory Entry
(This must be done first for any additional entries to count)
YOU MUST BE A MEMBER OF THIS SITE TO PARTICIPATE IN THESE GIVEAWAYS! Please leave a comment below telling me how you subscribe to our blog. (IT CAN'T GET EASIER THAN THAT!)
Optional
extra entry opportunities:
(leave a separate comment for each entry)
Tweet this message: copy/paste TWITTER (unlimited)
Post a message on your facebook wall about our SPD Awareness 30 prizes in 30 days giveaway event. (leave your facebook name)
You can also gain 1 entry PER DAY for

voting for us on Picket Fence

(below) easy 1 click vote. Just leave a message saying that you voted.
All entries must be received by 3:00am, 10/19/10. Winner will be chosen by random.org and emailed so be sure you leave me a way to contact you.
Entry rules:
Today's entries are open to US residents only