Thursday, October 28, 2010
SENSATIONAL CELEBRATION -
DAY 30
DAY 30!!!!!!!!!!!!!!!!!!!!! WE DID IT!!!
We received 30 amazing, spectacular prizes from our sponsors and gave them away in 30 days to raise awareness for SPD and the SPD Foundations 30th Anniversary Bash!
THIS GIVEAWAY WILL RUN UNTIL OCTOBER 31ST!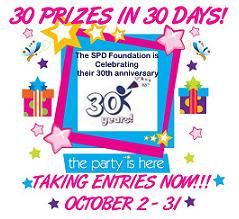 30 PRIZES IN 30 DAYS GIVEAWAY EVENT!

(It is not required but we would love for you to consider making a donation for our SPD Foundation Event!)

Please take a moment and visit our AMAZING sponsor!
Our last sponsor for our event is Picaboo! I couldn't resist using this for today! LOL BOO! Get it! LOL

I love this store! You can get some AMAZING photobooks, cards, and calendars from here! These are HIGH quality products! You have to stop by and see what they have! I would love to have a $50 GC from here to do some wonderful things with our photos.

You could also get some FABULOUS holiday cards! JUST IN TIME!!!!!


Thank you Picaboo for helping us raise awareness for SPD!
DONATIONS
Please take a look the the items that are listed on the top, left hand side of our blog. These items were donated to help us raise money for the SPD Foundation! Please take a moment and consider making a donation for one of these amazing items.

I'm hosting 30 AMAZING giveaways in 30 days to help the SPD Foundation raise awareness and money donations. Please take a moment and think about donating something. If you think a dollar wouldn't help, your wrong! Every penny is used to help the foundation get SPD recognized as its own diagnosis! It costs money to do this! They help educate families, doctors, schools, nurses and so many more to understand what these kids are going through and to teach them the proper way to care for them to help them adjust to life with their disorder!

Our event is in its last week and I really want to meet the financial pledge that I made to the Foundation. I know more than any that times are tough, but even donating any extra change that you have in your paypal account would help us reach our goal.
Mandatory Entry
(This must be done first for any additional entries to count)
You must be a member (leave a comment telling how you follow below), also visit Picaboo and tell me what one item you would most love to have from their store and leave a post below telling me about it!!
Optional
extra entry opportunities:
(leave a separate comment for each entry)
Tweet about this giveaway

(unlimited)

Post a message on your facebook wall about this giveaway

Post a message on your facebook

wall about our SPD Awareness 30 prizes in 30 days giveaway event. (leave your facebook name)
You can also gain 1 entry PER DAY for voting for us on Picket Fence easy 1 click vote. Just leave a message saying that you voted.

For every dollar you donate you will receive an entry into this giveaway!

(you can either post a note below or send me a personal email)
All entries must be received by 3:00am, 10/31/10.
Winner will be chosen by random.org and emailed so be sure you leave an email to contact you in case you win!
Entry rules:
open to US residents only