Wednesday, October 13, 2010
CONGRATULATIONS TO OUR WINNERS!
We have more winners to announce from our Sensational Celebration Giveaways!
Our day five giveaways were:
Please take a moment to meet our AMAZING sponsors!
Terri Mauro
and Kid's Companions
One winner will receive Terri Mauro's book

The Everything Parent's Guide to Sensory Integration Disorder
and one winner will receive their choice of a

Kid's Companion Chewelry
of their choice!
Our first prize is the book, "The Everything Parent's Guide to Sensory Integration Disorder: Get the Right Diagnosis, Understand Treatments, And Advocate for your Child", by Terri Mauro.
(From About.com)
Terri Mauro has two children with special needs: a 20-year-old with language-based learning disabilities and a 17-year-old with Fetal Alcohol Spectrum Disorder, both adopted from Russia in 1994.
Experience:
Education:
Terri received a BA in Literature from the College of Creative Studies at the University of California at Santa Barbara in 1981.
From Terri Mauro:
Almost everything important I've learned about raising my kids has come, in one way or another, from fellow parents of children with special needs. We can be an amazing resource for each other.
References: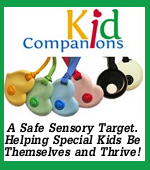 As a parent or caregiver, looking for accessories for a growing special needs child can be a challenge. Youth affected by Sensory Processing Disorder -SPD, Autism Spectrum Disorder -ASD, Attention Deficit Distorder ADD/ADHD, etc., can still benefit from developmental tools. However, age appropriate tools can be even harder to find.
Kid Companions is a chewable and wearable fidget that is safe, stylish and effective. It's the perfect alternative to fidget toys and chewys that can be less-than-discreet.
The Kid Companion was designed by a mom for her child. They are bpa, phthalate, lead and latex free accessories made for children to teens. Unique tactile features help your child be him/herself, anytime, anywhere.
We will be hosting a review in about a week for Kid Companions! Amazing product!
And the winners are:
The winners and prizes are as follows:
Lizzie5674 is the winner of Terri Mauro's Book and
ykatrina is our Chewelry giveaway winner!
All winners have been notified and verified!
Congratulations and thank you for helping us to raise awareness for SPD!