Sunday, October 3, 2010
SENSATIONAL CELEBRATION -
DAY 2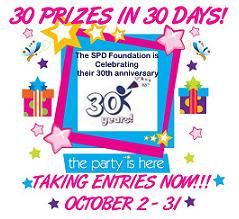 30 PRIZES IN 30 DAYS GIVEAWAY EVENT!
For our second day we have two prizes to giveaway!
One winner will receive a 3 month membership to Smartyrents.com and One winner will receive a sports/runner Id for shoes in yellow from Bellycharms.com
We will hosting auctions through Ebay for some other MAJOR giveaways that they sent us to raise money for our event as well as donations that we receive from our visitors for hosting this fabulous giveaway!
Please take a moment to meet our AMAZING sponsors!

(3) month membership subscription to SmartyRents.com (Arv $30). THANK YOU, THANK YOU, THANK YOU!
You have to see the amazing video game rentals that they carry for our little gamers!
They offer a variety of educational video games for children from the ages of 9 months to 10 years. Browse through their extensive list of educational skills to help boost your child's learning experience.
Vital IDs from Belly Charms


Safety Identification Products for the Entire Family
Sonya over at Belly Charms has offered to give one of our viewers a
sports ID - Runner ID for shoes in yellow
.
I am blown away at the strength of this woman! She has been such a rock for her sister Sandi who was diagnosed with brain cancer and has been having a really hard time with all of the medical treatments and bills. Please take a moment and learn more about the love of Sisters by seeing Sandi's Story, have your tissues ready! I listed her support button below.
With all of this going on in her life she still wanted to sponsor our event and help raise awareness for SPD! I'm just amazed, grateful, and forever thankful! You families are in my prayers everyday!

Mandatory Entry (This must be done first for any additional entries to count)
YOU MUST BE A MEMBER OF THIS SITE TO PARTICIPATE IN THESE GIVEAWAYS! Please leave a comment below telling me how you subscribe to our blog.

Please visit Ten Fundamental Facts About SPD, leave a comment below with your email and one of bullets from the list below.
Optional
extra entry opportunities:
(leave a separate comment for each entry)
Tweet this message: copy/paste Enter to win 30 amazing prizes in 30days to raise awareness for SPD @lucasjourneyspd, enter today! (unlimited)

Post a message on your facebook wall about our SPD Awareness 30 prizes in 30 days giveaway event. (leave your facebook name)

You can also gain 1 entry PER DAY for voting for us on Picket Fence (below) easy 1 click vote. Just leave a message saying that you voted : )
All entries must be received by 3:00am Sunday, 10/04/10. Winner will be chosen by random.org and emailed so be sure you leave me a way to contact you.
Entry rules:
Today's entries are open to US residents only.
Good Luck!