Thursday, October 7, 2010
SENSATIONAL CELEBRATION -
DAY 6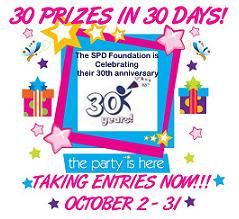 30 PRIZES IN 30 DAYS GIVEAWAY EVENT!
I AM SO EXCITED! THIS WEEK IS SENSORY WEEK. ALL PRIZES ARE SPD RELATED PRIZES!
For our sixth day we have some amazing prizes from
CHYNNA T. LAIRD, LILY WOLF WORDS
and
SMARTKNIT KIDS
One winner will receive Chynna T. Laird's book "I'm not weird I have SPD" and
one winner will receive 3 pairs of seamless sensitivity socks from Smartknit Kids
!
Please take a moment and visit our AMAZING sponsors!

Our first prize is the book, "I'm not weird, I have SPD"
,by Chynna T. Laird
http://www.lilywolfwords.ca/
http://www.the-gift-blog.com/
Author of "I'm Not Weird, I Have SPD"
Author of "Not Just Spirited: One Mom's Sensational Journey With Sensory Processing Disorder (SPD)"
Author of "At-Home Strategies for Treating Sensory Processing Disorder (How to Use Games and Activities to Create a Sensory Diet For Your Child)" To be released January 2011)
Contributing Blogger for Our Journey Thru Autism
Contributing Writer for WOW-womeonwriting.com,
Unique Magazine, Parenting Special Needs Magazine, and Amaze Magazine
(From Amazon.com)
This book was inspired by the author's daughter, Jaimie, who struggles with SPD. It was written to validate Jaimie's feelings and to show her other children feel things the way she does. This book can help children with SPD learn how to explain their disorder to others; help peers understand what children with SPD go through; and also help therapists, teachers and/or counselors learn how to talk about it. Helping others learn about children with special needs brings understanding to them and help to make them seem less...different. This revised edition of I'm Not Weird, I Have SPD, includes suggested activities teachers or caregivers can do with children to help develop a deeper understanding of how SPD "feels."
SmartKnitKIDS® patented seamless socks are perfect for children experiencing sensory processing differences, hypersensitivity or who simply can't stand annoying seams! These super soft socks for sensitive little feet will not wrinkle or bunch and are proven to reduce irritation.
Completely free of seams, the patented kids' socks are designed to provide comfort and relief to children who struggle with "bumps & lumps" in their socks.
Reduces annoying wrinkling and bunching in the shoe
Corespun yarns using Lycra and form-fitting design result in children's socks that "hug" the foot reducing wrinkling and bunching. The form fitting design also helps to keep socks on the wiggliest of toes.
UNIQUE NO HEEL DESIGN
"No heel" design allows children to put on socks with confidence and keeps little feet from outgrowing their socks so quickly.
Comfortable Non-Binding Top
Our non-binding Halo Top™ fits comfortably without slipping down the leg.Regular socks often have elastic bands at the tops of the sock that can often pinch, bind or be a source of irritation.
SmartKnitKIDS™ Socks are made with high-tech fibers that wick moisture away helping control odor or "stinky feet".We will be hosting a review in about a week for Kid Companions! Amazing product!
We will hosting auctions through Ebay for some other MAJOR giveaways that they sent us to raise money for our event as well as donations that we receive from our visitors for hosting this fabulous giveaway!
Mandatory Entry
(This must be done first for any additional entries to count)
YOU MUST BE A MEMBER OF THIS SITE TO PARTICIPATE IN THESE GIVEAWAYS! Please leave a comment below telling me how you subscribe to our blog.
Optional
extra entry opportunities:
(leave a separate comment for each entry)
Tweet this message: copy/paste http://twitter.com/ (unlimited)
Post a message on your facebook wall about our SPD Awareness 30 prizes in 30 days giveaway event. (leave your facebook name)
You can also gain 1 entry PER DAY for

voting for us on Picket Fence

(below) easy 1 click vote. Just leave a message saying that you voted.
All entries must be received by 3:00am Sunday, 10/07/10. Winner will be chosen by random.org and emailed so be sure you leave me a way to contact you.
Entry rules:
Today's entries are open to US residents only.
Good Luck!