Wednesday, October 20, 2010
SENSATIONAL CELEBRATION -
DAY 19
PLEASE NOTE: THESE ARE 24 HR GIVEAWAY!
ENTER NOW BEFORE IT'S TOO LATE!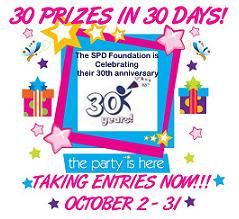 30 PRIZES IN 30 DAYS GIVEAWAY EVENT!
(It is not required but we would love for you to consider making a donation for our SPD Foundation Event!)
For our 19th day we have an amazing prize from
THIS SET IS AMAZING! THERE ARE SO MANY LEARNING FACETS TO THIS PUZZLE!
SHAPES, COLORS, ANIMALS, ETC. OUR THERAPIST USES THIS WITH LUCAS!
A few months ago Dawn was a guest on another SPD site that I belong to and her dedication to helping children just blew me away! She had a giveaway for a puzzle and I won it! She wrote to ask me what Lucas liked and told me to leave it to her and she'll send something she knew Lucas would love! We'll she did! She sent him this amazing talking alphabet puzzle and he adores it! She never met him, didn't know his likes or dislikes, but from asking what he liked she was able to figure out what would work for Lucas! I was amazed at the time she took for him! As busy as she is, she took time out to make another child happy! She is just so amazing with people.
When I found out I was doing this event, I contacted her to ask if she wanted to participate and before I could even look back at my mail, she sent a reply saying "YES!", "TELL ME WHAT YOU NEED!"

She has so many amazing toys! What clicked with me is that its not just another store! She uses regular toys and helps parents make them useful for those children who have special needs!

Dawn will be giving away two amazing toys throughout our event and even offered to donate portions of any procedes to help our efforts with the SPD Foundation!

If you want to purchase any of the toys that are being offered for this giveaway please use the links below!
ABOUT US (FROM TURN ON YOUR SENSES SITE)
Turn On Your Senses, Inc. is dedicated to providing parents and caregivers strategies that foster growth in gross motor, fine motor, speech and language, cognitive, and social-emotional development. We not only offer the selection of sensory toys but it also offer insightful pointers from the licensed professionals at T.O.Y.S., as well as directly from the creators of the toys, parents and outside experts in various related fields.
Our mission at T.O.Y.S. is to help educate our customers with helpful tips and resources so they can make informed decisions and also use the instruction to benefit their child, while making finding the best learning toys and educational toys easy.
Dawn Brauer
Dawn specializes with children birth through 5, who present with developmental disabilities, birth defects, sensorimotor processing issues, spectrum disorders, neurological, and orthopedic issues. She has worked with her clientele in several different settings: early intervention, aquatic rehabilitation, and school based at UCP in Commack and a couple of local Long Island school districts. Populations that she commonly treats include, but are not limited to, individuals with cerebral palsy, autism, global delay, genetic disorders and sensorimotor processing deficits. Dawn holds an MS in Physical Therapy and a BS in Health Science from Touro College and a second BS in Interdisciplinary Studies focusing on Chemistry, Physics, and Biology from Molloy College in Rockville Centre. She is also a Certified Infant Massage Instructor. She currently resides and practices on Long Island. She is married with 3 children; 6 and twin 3 year olds, and 1 on the way.
Vision
Our goal is to make T.O.Y.S. your #1 destination for sensory toys and games for children. We are dedicated and will provide you with strategies that foster growth and development. That's why we feature expert advice from licensed professionals and specialists in various related fields for each product we sell.
We will hosting auctions through Ebay for some other MAJOR giveaways that they sent us to raise money for our event as well as donations that we receive from our visitors for hosting this fabulous giveaway!
Mandatory Entry
(This must be done first for any additional entries to count)
YOU MUST BE A MEMBER OF THIS SITE TO PARTICIPATE IN THESE GIVEAWAYS! Please leave a comment below telling me how you subscribe to our blog. (IT CAN'T GET EASIER THAN THAT!)
Optional
extra entry opportunities:
(leave a separate comment for each entry)
Tweet this message: copy/paste TWITTER (unlimited)
Post a message on your facebook wall about our SPD Awareness 30 prizes in 30 days giveaway event. (leave your facebook name)
You can also gain 1 entry PER DAY for

voting for us on Picket Fence

(below) easy 1 click vote. Just leave a message saying that you voted.
All entries must be received by 3:00am, 10/21/10. Winner will be chosen by random.org and emailed so be sure you leave me a way to contact you.
Entry rules:
Today's entries are open to US residents only
Share