Saturday, December 25, 2010

Welcome to Lucas's Journey w/SPD's
Sensational Weekend Social!
SUPER MEGA 7 IN 1 BLOG HOP!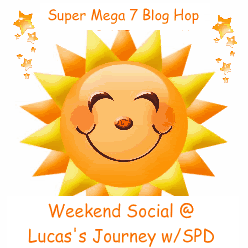 Please help build our social and copy the button above and place it somewhere on your site so that others can join in on the fun! Please leave a message if you are a new follower so that I can follow you back.



DON'T FORGET TO ADD YOU BLOG HOPS TO OUR BLOG HOPS LISTS LOCATED HERE:
BLOG HOPS LISTS - MONDAY - SUNDAY
Just find your hop day and enter your button!
PLEASE IF YOU HAVE AN EVENT GOING ON AT YOUR BLOG BE SURE TO LIST YOUR EVENT BUTTON BELOW SO THAT WE CAN JOIN YOU!!!!!
I know there are tons of Holiday and Christmas events going on right now so let our friends know about them so we can join you.
Have a blast today! Please leave a note and I promise to follow back! I love meeting new friends! ☺


LIST YOUR BLOGS HERE

LIST YOUR TWITTER ACCOUNTS HERE


LIST YOUR FACEBOOK ACCOUNTS HERE

LIST YOUR NETWORK BLOG ACCOUNTS HERE
LIST YOUR BLOG FROG ACCOUNTS HERE


LIST YOUR GIVEAWAYS HERE
LIST YOUR EVENT BUTTONS HERE
This section is for blogging events not blog hops. Please click on the link below to add your blog hops to our links provided for blog hops





Be sure to add your blog hop on our running blog hop list!