Sunday, December 5, 2010
Welcome to Lucas's Journey w/SPD's
Sensational Saturday/Sunday Social!
SUPER MEGA 7 IN 1 BLOG HOP!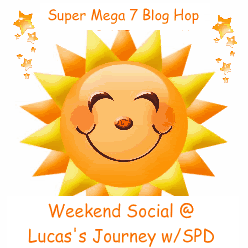 Please help build our social and copy the button above and place it somewhere on your site so that others can join in on the fun! Please leave a message if you are a new follower so that I can follow you back.


I DECIDED TO HOST ANOTHER GIVEAWAY THIS WEEK! : )



ONE WINNER FROM THIS WEEKS BLOG HOP WILL BE FEATURED ON NEXT WEEKS BLOG HOP AND GET THEIR BUTTON PLACED IN ONE OF OUR AD SPOTS FOR THE WEEK! EVERY ONE WHO LINKS UP WILL BE ENTERED AUTOMATICALLY! TELL YOUR FRIENDS AND YOUR FOLLOWERS SO THEY CAN LINK UP TOO!!


THE WINNER FROM LAST WEEKS HOP IS

"This N That Boutique Blog
I sent you an email! Congrats on your win!
DON'T FORGET TO ADD YOU BLOG HOPS TO OUR BLOG HOPS LISTS LOCATED HERE:
BLOG HOPS LISTS - MONDAY - SUNDAY
Just find your hop day and enter your button!


PLEASE IF YOU HAVE AN EVENT GOING ON AT YOUR BLOG BE SURE TO LIST YOUR EVENT BUTTON BELOW SO THAT WE CAN JOIN YOU!!!!!
Have a blast today! Please leave a note and I promise to follow back! I love meeting new friends! ☺
LIST YOUR BLOGS HERE

LIST YOUR TWITTER ACCOUNTS HERE
LIST YOUR FACEBOOK ACCOUNTS HERE
LIST YOUR NETWORK BLOG ACCOUNTS HERE

LIST YOUR BLOG FROG ACCOUNTS HERE

LIST YOUR GIVEAWAYS HERE
LIST YOUR EVENT BUTTONS HERE
This section is for blogging events not blog hops. Please click on the link below to add your blog hops to our links provided for blog hops
Be sure to add your blog hop on our running blog hop list!