Sunday, January 23, 2011
Welcome to Lucas's Journey w/SPD's
Sensational Weekend Social!
SUPER MEGA 7 IN 1 BLOG HOP!
GIVEAWAY TODAY!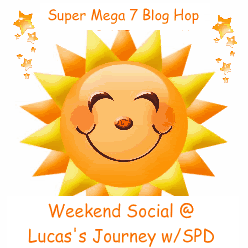 Please help build our social and copy the button above and place it somewhere on your site so that others can join in on the fun! Please leave a message if you are a new follower so that I can follow you back.
Congratulations to Stash Mama!!
I sent you a message through your contact me button: )
http://stashmama.blogspot.com/
Take a minute to stop by Stash Mama! She has a fabulous BLOG POP Valentines Day Event going on right now with
17 fabulous giveaways! There are over $1,300 in giveaways just to mention a few,
$100 GC to Fantasy Jewelry Box
,
Nu Skin's Galvanic Spa II ($375 ARV)
,
Arrojo by Izunami Flat iron ($250 ARV)
I'm so excited that we have her here this week, good luck to all how enter I hope you win : )
If you tweet about this hop, our post about it on facebook, or post about it on your blog, leave a message below and you will get additional entries for the Gift Card.
DON'T FORGET TO ADD YOU BLOG HOPS TO OUR BLOG HOPS LISTS
Monday Blog Hops, Tuesday Blog Hops,Wednesday Blog Hops, Thursday Blog Hops, Friday Blog Hops, Saturday Blog Hops, Sunday Blog Hops,
Just find your hop day and enter your button!
Please leave a note and I promise to follow back! I love meeting new friends!
Don't forget to enter our 1,000 GFC follower giveaway :)
Don't forget to visit all of the other amazing blog hops on our blog hops lists by checking here!
Be sure to add your blog hop on our running blog hop list!