Friday, February 18, 2011
Welcome to Lucas's Journey w/SPD's

Sensational Weekend Social!
SUPER MEGA 7 IN 1 WEEKEND BLOG HOP

AND GIVEAWAY!!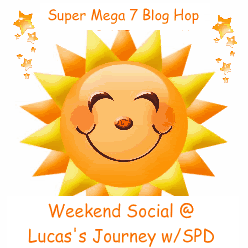 NOTICE:
I'm posting the weekend blog hop on Friday this weekend. I will be moving this weekend so if I don't get right back to follow you, I promise I will as soon as my computer gets hooked back up!
Please help build our social and copy the button above and place it somewhere on your site so that others can join in on the fun! Please leave a message if you are a new follower so that I can follow you back.
Everyone who links up today will be entered into our giveaway this week!
ONE winner will be featured next week and receive a placement in one of our ad spots!
Congrats to last weeks winner to be featured this week with a free ad spot for the week!
If you live in NJ/PA/DE, I encourage you to stop by Philly Mom's Time Out and "LIKE" them on facebook and enter to win some amazing daily prizes!~
Congratulations to Ramona at Create With Joy!
Create With Joy celebrates creativity in all its facets. On your visit you'll discover beautiful paper crafts, delicious recipes, gorgeous photography, and so much more! I share my art, dreams, and creative passions in the hope that they will inspire you to lead a more passionate and creative life!
This is such a beautiful and inspirational blog! I love just stopping by and seeing the beauty of it! I stop by whenever I need a breath of fresh air or a little peace! She always has an inspirational saying or a beautiful sentiment! I always leave feeling so relaxed! I love her blog!
Please take a moment and make your day bright by stopping by Create With Joy, our featured blog this week!
Congrats!
Create With Joy!
DON'T FORGET TO ADD YOU BLOG HOPS TO OUR BLOG HOPS LISTS
We recently changed to inlinkz because they are free to list basic links. I was very sad to see the way that linkytools handled the whole pay to stay on such short notice so we'll be using them from now on!
Monday Blog Hops, Tuesday Blog Hops,Wednesday Blog Hops, Thursday Blog Hops, Friday Blog Hops, Saturday Blog Hops, Sunday Blog Hops,
Just find your hop day and enter your button!
Please leave a note and I promise to follow back! I love meeting new friends!
Don't forget to enter our 1,000 GFC follower giveaway :)
We only need

14

new friends to give our prize away!









Don't forget to visit all of the other amazing blog hops on our blog hops lists by checking here!
Be sure to add your blog hop on our running blog hop list!