Friday, April 8, 2011
Welcome to Lucas's Journey w/SPD's

Sensational Weekend Social!
SUPER MEGA 7 IN 1 WEEKEND BLOG HOP

AND GIVEAWAY!!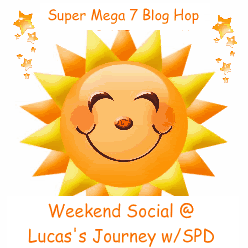 Please help build our hop and copy the button above and place it somewhere on your site so that others can join in on the fun! Please leave a message if you are a new follower so that I can follow you back.
Everyone who links up today will be entered into our giveaway this week! ONE winner will be featured next week and receive a placement in one of our ad spots!
Congratulations to My Fitness World!
Hello my name is April, and yes I am a fitness instructor. I'm also a SAHM with four beautiful girls and a girl dog. We are a military family too. My husband is in the Army and we have four years left til retirement. Wooohooo I can't wait! Moving around every four years sucks... (
click here
to read more.)
We recently changed to inlinkz because they are free to list basic links.
You can get your free linky's by clicking on the frog! (I LOVE THAT LITTLE FROG!)
Monday Blog Hops, Tuesday Blog Hops,Wednesday Blog Hops, Thursday Blog Hops, Friday Blog Hops, Saturday Blog Hops, Sunday Blog Hops,
Just find your hop day and enter your button!
Please leave a note and I promise to follow back! I love meeting new friends!
Don't forget to visit all of the other amazing blog hops on our blog hops lists by checking here!
Be sure to add your blog hop on our running blog hop list!