Friday, April 22, 2011

Welcome to Lucas's Journey w/SPD's


Sensational Weekend Social!
SUPER MEGA 7 IN 1 WEEKEND BLOG HOP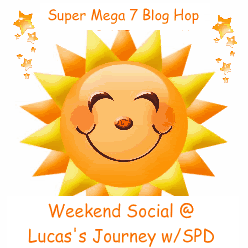 Please help build our hop and copy the button above and place it somewhere on your site so that others can join in on the fun! Please leave a message if you are a new follower so that I can follow you back.
Everyone who links up today will be entered into our giveaway this week! ONE winner will be featured next week and receive a placement in one of our ad spots!
DO YOU WANT TO WIN A BRAND NEW 2011 CHEVY CRUZE?
SIGN UP NOW FOR YOUR CHANCE TO WIN AT
I'M GOING!!! I'm SOOOOO Excited!!!
Congratulations to
The Adventures of J-Man and MillerBug
Hi, I'm Jeannette Fender - a momma who has left the corporate world behind (for now) to raise my two wonderful boys and be CEO of my household. I'm a wife, mother, daughter, sister and friend and can't wait to share my adventures with you!
You have to stop by and link up with Jeannette's Weekend blog hop Finding New Friends after linking up here :) Two great link ups for the price of one! LOL
ANOTHER BLOGGER I WOULD LIKE TO MENTION!!!!
I would also like to feature an amazingly talented blogger
Mo'Betta
. I asked our readers if they would submit a cute craft or recipe to share with everyone and she submitted this AWESOME cupcake recipe!
You have to stop by and see how adorable these little cup cakes she made for her son came out! SIMPLY MARVELOUS!!!
We recently changed to inlinkz because they are free to list basic links. You can get your free linky's by clicking on the frog! (I LOVE THAT LITTLE FROG!)
Monday Blog Hops, Tuesday Blog Hops,Wednesday Blog Hops, Thursday Blog Hops, Friday Blog Hops, Saturday Blog Hops, Sunday Blog Hops,
Just find your hop day and enter your button!
Please leave a note and I promise to follow back! I love meeting new friends!
Don't forget to visit all of the other amazing blog hops on our blog hops lists by checking here!
Be sure to add your blog hop on our running blog hop list!