Friday, July 29, 2011
Welcome to Lucas's Journey w/SPD's
Sensational Weekend Social!
SUPER MEGA 7

8

(for now) WEEKEND BLOG HOP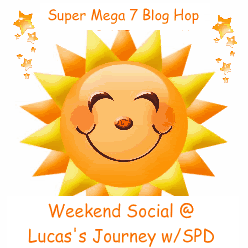 Everyone who links up today will be entered into our giveaway this week!* One winner will be featured next week and receive a placement in one of our ad spots!
ATTENTION FELLOW MAMA'S, GROUND BREAKING NEWS HERE!!!
This is real folks!!! A friend of mine from NY that works @ Cineflix Productions is looking for families for a new TLC Show that they are filming! The only thing that I ask is if you get on you HAVE to come back and tell us about it as a spotlight blog guest!!
Our new TV show for Slice and TLC International is seeking parents who want to worry a little less by teaching their children independence and self-reliance.
Here are the families that are needed!!!

If you live near Toronto or New York with at
least one or more children between the ages of 9-16, and are prepared to be on TV, please tell us your story!


I'm not sure how fast the families that they need will fill up but I would HURRY!!
(Be sure to let her know that I recommended you in question 10 of the application! :O)
click here for post w/application!!
If you get in, don't get all snooty and not visit me anymore either!!!!
I don't want any of my Momma's turning into Kate Gosselin on me because their famous!!!
*ALL THAT WE ASK IS FOR YOU TO SHARE IT WITH YOUR FOLLOWERS IF YOU ARE CHOSEN!!!! (We are linking up here to GAIN and FOLLOW new friends) I don't expect anyone to copy our whole hop into their blog, just a fun post saying that you were featured here so that we can meet some of your friends too!)
*If you are NOT interested in participating if chosen, please leave a comment below so I can choose another winner that would like the opportunity!
Congratulations to this weeks featured blog!
A new momma of twins! I am an artist in my soul blessed from above! I have also just started making inspirational jewelry and plan to do much more! Come along with me on this journey!! :)
You can whistle and steam can whistle, so why do you sing in the shower?
Because I sound good! Dang it!!
LOL! I love her About me!! Be sure to stop by "ChariT's Inspirational Creations"! You have to see the amazing pieces that she has made! Absolutely beautiful! She has even more in her store which you can visit here: http://www.etsy.com/shop/charit
Please leave a message if you are a new follower so that I can follow you back. Also if you vote for us leave a note so that I can vote for you too : )
Don't forget to add your Buttons to our NEW FREE AD page by clicking here or visiting,
http://lucasjourneyspd.blogspot.com/2011/06/advertise-for-free-add-your-buttons.html
Don't forget to visit some other wonderful weekend blog hops, which you can find by checking here! Have a blog hop and want to share it? Be sure to add your blog hop on our running blog hop list!