Friday, August 5, 2011
Welcome to Lucas's Journey w/SPD's
Sensational Weekend Social!

****THAT WILL STAY UP ALL WEEK LONG!!!****

SUPER MEGA 7

8

(for now) WEEKEND BLOG HOP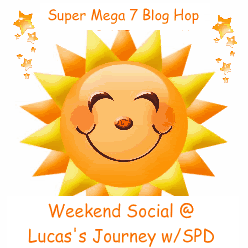 Everyone who links up today will be entered into our giveaway this week!* One winner will be featured next week and receive a placement in one of our ad spots!
ATTENTION FELLOW MAMA'S, GROUND BREAKING NEWS HERE!!!
Cineflix Productions is still looking for families to star in a new upcoming TLC Show, If you know anyone in the NY area that would be interested please
check here for info and application!!!
If you get in, don't get all snooty and not visit me anymore either!!!!
I don't want any of my Momma's turning into Kate Gosselin on me because their famous!!!
*ALL THAT WE ASK IS FOR YOU TO SHARE IT WITH YOUR FOLLOWERS IF YOU ARE CHOSEN!!!! (We are linking up here to GAIN and FOLLOW new friends) I don't expect anyone to copy our whole hop into their blog, just a fun post saying that you were featured here so that we can meet some of your friends too!)
*If you are NOT interested in participating if chosen, please leave a comment below so I can choose another winner that would like the opportunity!
Congratulations to this weeks featured blog!
I'm a proud Army wife currently living in Hawaii, but I'm a Southern girl at heart. I was born into a musical family and raised in Mississippi where I grew up with the soulful sounds of jazz, blues, and Southern gospel. My greatest musical influence is my father, a professional jazz guitarist who has played with numerous musical legends including Chuck Berry, Charlie Daniels, Charlie Rich, Martina McBride and many others.
I recently started writing, recording and producing music in my home studio (aka "storage closet") on Schofield Barracks, Hawaii. So far, I have done my own production work on my Mac using Logic Pro. I will soon get into a "real" studio with the help of a local music producer... More details to come.... But, stay tuned for the release of my first EP! And, thanks for letting me share my music with you!

:)
Wow, can this girl sing! You have to stop by and watch some of her videos!! You can visit Olivia by visiting her here: http://www.oliviabluemusic.com
******** NEW THIS WEEK, OUR HOP WILL STAY OPEN ALL WEEK LONG*************
Please leave a message if you are a new follower so that I can follow you back. Also if you vote for us leave a note so that I can vote for you too : )
Share your blog hop with us!
Add your blog hop to our running list of hops to visit! Enter your blog on our hop list!
Don't forget to add your Buttons to our NEW FREE AD page by clicking here
Also, you can add your giveaways to our New 2011 Giveaway Link Up by
clicking here