Friday, August 12, 2011
Welcome to Lucas's Journey w/SPD's
SUPER MEGA SOCIAL LINK-UP WEEK LONG BLOG HOP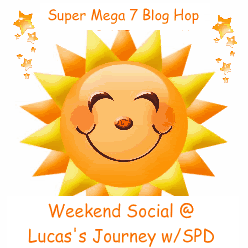 Everyone who links up today will be entered into our giveaway this week!* One winner will be featured next week and receive a placement in one of our ad spots!
*ALL THAT WE ASK IS FOR YOU TO SHARE IT WITH YOUR FOLLOWERS IF YOU ARE CHOSEN!!!! (We are linking up here to GAIN and FOLLOW new friends) I don't expect anyone to copy our whole hop into their blog, just a fun post saying that you were featured here so that we can meet some of your friends too!)
*If you are NOT interested in participating if chosen, please leave a comment below so I can choose another winner that would like the opportunity!
Congratulations to this weeks featured blog!
Hi, my name is Clare and I have enjoyed creating ever since I was five years old and my mom taught me how to knit.
I have studied art and technical drawing and am currently a stay-at-home mom studying graphic design to embark on a creative career when I return to work after the children are in full time education. I hope you enjoy my store and happy shopping.
Please leave a message if you are a new follower so that I can follow you back. Also if you vote for us leave a note so that I can vote for you too : )
Share your blog hop with us!
Add your blog hop to our running list of hops to visit! Enter your blog on our hop list!
Don't forget to add your Buttons to our NEW FREE AD page by clicking here
Also, you can add your giveaways to our New 2011 Giveaway Link Up by
clicking here