Friday, August 20, 2010
Sensational Saturday Social!
THAT LASTS ALL WEEKEND LONG!
SUPER MEGA 6 IN 1 BLOG HOP!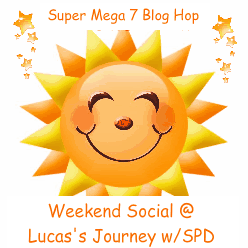 Please help build our social and copy the button above and place it somewhere on your site so that others can join in on the fun! This is a great way to publicize your blog to others! We will post a new link each week at around 11:59 p.m. EST on Friday nights.

Our Sensational Saturday Blog Hop will be listed for the entire weekend. We love having you here! Have a great time today and thanks for visiting us.

We have a Mega 6-1 hop going on here! We have separate blog hops for your Blog, Facebook, Network Blog, Twitter, Blog Frog, and your giveaways ALL IN ONE hop!

Have a blast today and lets meet some new friends!
LIST YOUR TWITTER ACCOUNTS HERE
LIST YOUR FACEBOOK ACCOUNTS HERE