Saturday, August 14, 2010
Lucas's Journey w/SPD's, 5th
WOW 4 BLOG HOPS IN 1 CONTINUED
Our Sunday Summer Social is a Continuation from our fabulous
Sensational Saturday Social blog hop!
There are far too many fabulous blogs to visit, wonderful people to meet,
and simply not enough time to do it in one day!
HAPPY HOPPING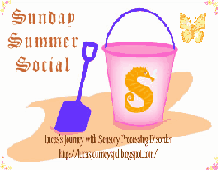 Welcome to Lucas's Sunday Summer Social. Please help our social grow and share about our hop on your blog. We can't meet new friends if no one knows about it : )
I will be hosting this blog hop on Sunday's and I should have it posted on by 10:00 pm (EST) on Saturday.
I thought it would be fun to have a few different ways to connect. Its a blog hop, twitter hop, facebook hop, and a giveaway hop ALL IN ONE!
We have separate links for Blogs, twitter, facebook, network blogs, and giveaways! Please be sure to link up those accounts that you would like to have new followers for : )
Have a blast today and lets meet some new friends!
LIST YOUR TWITTER ACCOUNTS HERE : )
LIST YOUR FACEBOOK ACCOUNTS HERE : )
LIST YOUR NETWORK BLOG ACCOUNTS HERE : )
LIST YOUR GIVEAWAYS HERE : )
While your here be sure to check out our friends here too! The More Friends the merrier!