Friday, August 13, 2010
Lucas's Journey w/SPD's second
Sensational Saturday Social!
WOW 5 HOPS IN ONE!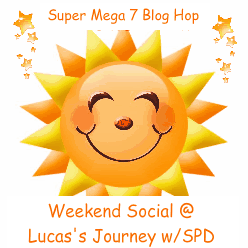 Please help build our social and copy the button above and place it somewhere on your site so that others can join in on the fun! This is a great way to publicize your blog to others! We will post a new link each week at around 11:59 p.m. EST on Friday nights.

Don't forget to come back for the Sunday Summer Social on Sunday to meet some more new friends. We would love to have you! Have a great time today and thanks for visiting Lucas's Journey with Sensory Processing Disorder.

Its Saturday so I'm not following any rules! I thought it would be fun to have a few differnt ways to connect. Its a blog hop, twitter hop, facebook hop, Network blog hop, and a giveaway hop ALL IN ONE!

We have separate links for Blogs, twitter, facebook, network blog and giveaways! Please be sure to link up those accounts that you would like to have new followers for : )

Have a blast today and lets meet some new friends!
LIST YOUR TWITTER ACCOUNTS HERE : )
LIST YOUR FACEBOOK ACCOUNTS HERE : )
LIST YOUR NETWORK BLOG ACCOUNTS HERE : )
LIST YOUR GIVEAWAYS HERE : )
While your here please take a moment to stop by these WONDERFUL blog hops as well. : )