Thursday, August 12, 2010
Welcome to Talkative Thursday's - Week 3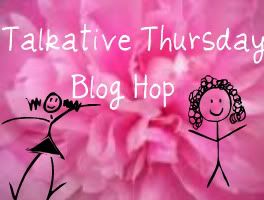 Talkative Thursday's is hosted by
Mommy of One
and co hosted by
Lucas's Journey with SPD
.
Announcement:

Link up every Thursday - August 12,19,26, and Sep 1 - and be entered into a drawing to win your button on both of our blogs for 1 month.


We will also be starting a "Blog Spotlight". Each week, starting the 19, we will randomly select a blog, and place that blog in the #3 spot on the Linky List.

RULES:
Follow the blog in the #1 and #2 spot
Grab the Talkative Thursday's button, and make a post on your blog, with the button so new follower's know where to submit comments.
Submit your URL to the linky below, please have it go to your new blog post with the button.
Follow as many blog's as you want!!

You must follow both blogs in order to participate. If your a new follower, you can leave a comment on this post & on the other host's posting letting us know, and we will follow back.