Saturday, October 16, 2010
SENSATIONAL CELEBRATION -
DAY 15
PLEASE NOTE: THESE ARE 24 HR GIVEAWAY!
ENTER NOW BEFORE IT'S TOO LATE!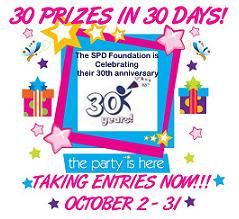 30 PRIZES IN 30 DAYS GIVEAWAY EVENT!
Please take a moment and visit our AMAZING sponsors!




Our first giveaway is from:

(3) month membership subscription to SmartyRents.com (Arv $30).
You have to see the amazing video game rentals that they carry for our little gamers!
They offer a variety of educational video games for children from the ages of 9 months to 10 years. Browse through their extensive list of educational skills to help boost your child's learning experience.
Our Second Giveaway is from:
I met Elizabeth shortly after I started blogging. She was so friendly and easy to talk with. Her blog is amazing. She has so many wonderful healthy alternatives for our kiddo's. You have to check it out! You will love it! Everytime I go to her site I start drooling! LOL
When Elizabeth saw our event she wanted to help with our efforts right away! I can't thank her enough for her dedication to helping us raise awareness for SPD!
Taken from Elizabeth's about me page:
Hi! I'm Elizabeth. I am married to my husband David and we have a son named Daniel. I am from Seattle, Wa but currently live in Marion, Iowa. I spent 7 years as a teacher, teaching elementary school then high school French. Now I am a stay at home mom. I have a B.A. in French and a Masters Degree in Teaching Elementary Education. I am also an NBCT in Early Adolescence to Young Adulthood World Languages other than English/French. I am passionate about cooking and providing nutritious meals for my family. One of my favorite things is getting Daniel involved in the kitchen. He is little, but he is a great helper! I also love reading, knitting, and travelling all over the world. I lived in France for several years. I hope you enjoy my blog!
We will hosting auctions through Ebay for some other MAJOR giveaways that they sent us to raise money for our event as well as donations that we receive from our visitors for hosting this fabulous giveaway!
Mandatory Entry
(This must be done first for any additional entries to count)
YOU MUST BE A MEMBER OF THIS SITE TO PARTICIPATE IN THESE GIVEAWAYS! Please leave a comment below telling me how you subscribe to our blog. (IT CAN'T GET EASIER THAN THAT!)
Optional
extra entry opportunities:
(leave a separate comment for each entry)
Tweet this message: copy/paste TWITTER (unlimited)
Post a message on your facebook wall about our SPD Awareness 30 prizes in 30 days giveaway event. (leave your facebook name)
You can also gain 1 entry PER DAY for

voting for us on Picket Fence

(below) easy 1 click vote. Just leave a message saying that you voted.
All entries must be received by 3:00am, 10/17/10. Winner will be chosen by random.org and emailed so be sure you leave me a way to contact you.
Entry rules:
Today's entries are open to US residents only.