Friday, October 15, 2010
Welcome to
Lucas's Journey w/SPD's
Sensational Saturday/Sunday Social!
SUPER MEGA 6 IN 1 BLOG HOP!
Enter our 30 giveaways in 30 days while your here and be sure to come back every day in October for more amazing prizes!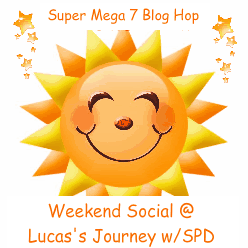 Please help build our social and copy the button above and place it somewhere on your site so that others can join in on the fun! Please leave a message if you are a new follower so that I can follow you back.

Our Sensational Saturday Blog Hop will be listed for the entire weekend. We love having you here! We have a Mega 6-1 hop going on here! We have separate blog hops for your Blog, Facebook, Network Blog, Twitter, Blog Frog, and your giveaways ALL IN ONE hop!
Have a blast today! Please leave a note and I promise to follow back! I love meeting new friends! : )
LIST YOUR TWITTER ACCOUNTS HERE
LIST YOUR FACEBOOK ACCOUNTS HERE