Tuesday, October 26, 2010
SENSATIONAL CELEBRATION -
DAY 25
PLEASE NOTE: THESE GIVEAWAYS WILL RUN UNTIL OCTOBER 31ST!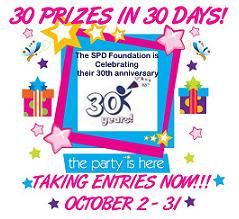 30 PRIZES IN 30 DAYS GIVEAWAY EVENT!
(It is not required but we would love for you to consider making a donation for our SPD Foundation Event!)

For our 25th day we have an amazing prizes from
One winner will receive a Blogger Blog Design from ShibleySmiles, one winner will receive a $25.00 Restaurant.com gift card code from Charlie Kinkade (Lucas's Brother) and one winner will receive a Large Tangiball from Discovery Toys - Sandi Porter!
Please take a moment and visit our AMAZING sponsors!
Our first giveaway is from:


A few months ago I met Colleen through blog hops that we both follow! I LOVE her blog designs!
I entered a giveaway that she was having a few weeks back for a blog make-over and actually won! I was SO excited and knew I would have a very cluttered blog while we were hosting this event! I asked her if she would wait until the event was over so that I could clean it up a bit before having all of my new pretty added to it! LOL Of course she was amazingly nice and said yes. After thinking I thought so many other bloggers would LOVE to have one of her designs so I would ask if she would help with our event and she was right on it with a "YES"!
I love her Halloween design and can't wait to see what her next move is for her blog! I wish I had that kind of talent! Colleen has offered to give one of our lucky viewers
a
"Blogger" Blog design!
I am SO excited for one lucky winner who wins this prize from her! Thanks Colleen!
Our second giveaway is from:
Sandi touched base with me and wanted to do something to help with our event! She knew all about what our SPD families would love to have and what would help our kids. I know that a lot of the therapy toys that our therapists use come from Discover Toys. I can't thank her enough for giving one of our members a chance to win a Large Tangiball for their little one. Thank you Sandi!
From Sandi's About Me page
Hi! I'm Sandi, mother of two amazing little boys, the oldest of which has SPD. My husband and I have been teaching for 14 years and I am trying really hard to become a WAHM! I want to be the one to raise my kids, advocate for them, and still do my part to financially support our family. I joined Discovery Toys a year ago after finding that they offer so many of the toys our therapists use and love. Our catalog features an autism guide and learning pathways. You can choose toys that help develop specific skills! Please let me know if you have any questions! Contact me to place an order for your holiday gifts and I will pay your shipping! (12% savings!)
Our third giveaway is from:
It started 4 years ago! We found out that Charlie added a little extra something on his list to Santa.
Number 10 on the list read:
"Please send me a baby brother or sister! You can keep everything else on the list if you bring me one! That's really all that I want for Christmas!"
We were so touched by his request but we were told that we wouldn't be able to have anymore children! We felt blessed to have Charlie! Two weeks after the new year we went out and got Charlie a cat! We had to do something! We knew we couldn't give him what he asked for.
April of 2007 I had to leave work to have surgery on my wrist and after the surgery we received an emergency call from the Dr. telling me not to take the pain medicine that he gave me! My blood test came back positive for BABY! OMG! It took about a month for me to believe that he wasn't playing an April fools day trick on me. After getting my first OBGYN appointment he told us we were going to be parents again on DECEMBER 25 (CHRISTMAS DAY THE VERY NEXT YEAR)! I looked at Charlie different since then. This kid has some pull somewhere! I nicely told him to be VERY careful with what he wished for from then on! LOL
Charlie wanted to do something for his brother so he used his allowance money that he had been saving for a video game to hold a giveaway for his event! I have a really good kid! He's a sweetheart!
We will hosting auctions through Ebay for some other MAJOR giveaways that they sent us to raise money for our event as well as donations that we receive from our visitors for hosting this fabulous giveaway!
Mandatory Entry
(This must be done first for any additional entries to count)
Be a member and leave a post thanking our fabulous sponsors of today's prizes!
Donations are not mandatory but please consider making a small donation to the SPD Foundation while your here. The link is listed below. $1 could help so much!
Optional
extra entry opportunities:
(leave a separate comment for each entry)
Tweet this message: copy/paste TWITTER (unlimited)
Post a message on your facebook wall about our SPD Awareness 30 prizes in 30 days giveaway event. (leave your facebook name)
You can also gain 1 entry PER DAY for

voting for us on Picket Fence

(below) easy 1 click vote. Just leave a message saying that you voted.
All entries must be received by 3:00am, 10/31/10. Winner will be chosen by random.org and emailed so be sure you leave me a way to contact you.
Entry rules:
open to US residents only