Saturday, October 9, 2010
Welcome to
Lucas's Journey w/SPD's
Sensational Saturday/Sunday Social!
SUPER MEGA 6 IN 1 BLOG HOP!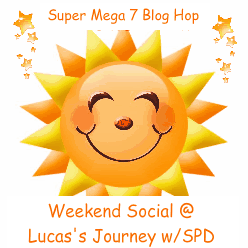 Please help build our social and copy the button above and place it somewhere on your site so that others can join in on the fun! Please leave a message if you are a new follower so that I can follow you back.

Our Sensational Saturday Blog Hop will be listed for the entire weekend. We love having you here! We have a Mega 6-1 hop going on here! We have separate blog hops for your Blog, Facebook, Network Blog, Twitter, Blog Frog, and your giveaways ALL IN ONE hop!
Have a blast today and lets meet some new friends!
While your here please think about helping us and adding our Sensational Event button to your blog for us! You will be entered to win over $2,000 in prizes in October for doing it!
You can also enter our 2nd entry opportunity for the same prizes! The entry is so easy, its a tweet or an email to gain entries. Not only are you entering to win over $2,000 you could be helping so many children get the media attention that their condition deserves!
I am SO sorry I'm so late with the hop this week! We had a death in the family this week and it's been a struggle trying to get everything done! I can
LIST YOUR BLOGS HERE
LIST YOUR TWITTER ACCOUNTS HERE
LIST YOUR FACEBOOK ACCOUNTS HERE