Friday, March 25, 2011
Welcome to Lucas's Journey w/SPD's

Sensational Weekend Social!
SUPER MEGA 7 IN 1 WEEKEND BLOG HOP

AND GIVEAWAY!!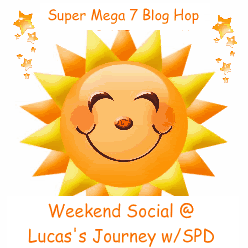 Please help build our social and copy the button above and place it somewhere on your site so that others can join in on the fun! Please leave a message if you are a new follower so that I can follow you back.
Everyone who links up today will be entered into our giveaway this week!
ONE winner will be featured next week and receive a placement in one of our ad spots!
Congrats to last weeks winner who will be featured in this weeks hop along with a free ad spot for the week!
Congratulations to Shanimal's Crackers!
You have to stop by and see some of the adorable pictures she has posted on her blog! My son laughs at me because he said I'm addicted to funny animal videos! Once I start watching them I can't stop! Her pics did the same thing! I couldn't leave until I saw them all! LOL
DON'T FORGET TO ADD YOU BLOG HOPS TO OUR BLOG HOPS LISTS
We recently changed to inlinkz because they are free to list basic links.
We added some picture links this week. Let me know if you like them better :)
You can get your free linky's by clicking on the frog! (I LOVE THAT LITTLE FROG!)
Monday Blog Hops, Tuesday Blog Hops,Wednesday Blog Hops, Thursday Blog Hops, Friday Blog Hops, Saturday Blog Hops, Sunday Blog Hops,
Just find your hop day and enter your button!
Please leave a note and I promise to follow back! I love meeting new friends!
Don't forget to visit all of the other amazing blog hops on our blog hops lists by checking here!
Be sure to add your blog hop on our running blog hop list!