Saturday, April 16, 2011

Welcome to Lucas's Journey w/SPD's


Sensational Weekend Social!
SUPER MEGA 7 IN 1 WEEKEND BLOG HOP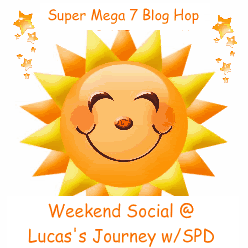 Please help build our hop and copy the button above and place it somewhere on your site so that others can join in on the fun! Please leave a message if you are a new follower so that I can follow you back.
Everyone who links up today will be entered into our giveaway this week! ONE winner will be featured next week and receive a placement in one of our ad spots!
Congratulations to Around My Family Table!
Hi! My name is Wendy. I am a stay-at-home mom who lives in the wonderful state of Arizona. I married my high school sweetheart over 12 years ago and we have two beautiful children. We have a 6 year old daughter who has some special needs and a rambunctious 1 1/2 year old son. I strive to be a gentle christian mother who focuses on attachment parenting. I am a La Leche League Leader and a Girl Scout Leader.
I have been cooking as long as I can remember. My mom taught me how to cook when I was younger and when I finally left home, I was able to prepare meals instead of boxed dinners or take out. I think this is what won my hubbyman's heart.
I cook mostly from scratch, but do take the occasional short cut. I grind my own grains for breads, I raise chickens for fresh eggs, I have a bunch of fruit trees, and I plan on starting a garden this fall. I try my best to feed my family healthy foods. I also love to decorate cakes.
Also, feel free to check out my other blog, Our Journey with SPD for more details about Sensory Processing Disorder.
If you like what you see here, please follow me. Happy Cooking!
~Wendy~
We recently changed to inlinkz because they are free to list basic links. You can get your free linky's by clicking on the frog! (I LOVE THAT LITTLE FROG!)
Monday Blog Hops, Tuesday Blog Hops,Wednesday Blog Hops, Thursday Blog Hops, Friday Blog Hops, Saturday Blog Hops, Sunday Blog Hops,
Just find your hop day and enter your button!
Please leave a note and I promise to follow back! I love meeting new friends!
Don't forget to visit all of the other amazing blog hops on our blog hops lists by checking here!
Be sure to add your blog hop on our running blog hop list!