Friday, April 29, 2011
Welcome to Lucas's Journey w/SPD's
Sensational Weekend Social!
SUPER MEGA 7 WEEKEND BLOG HOP
OMG YES IT'S 8 IN 1 THIS WEEK!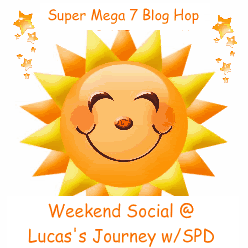 We're stirring this up a bit this weekend! I'm adding yet another link up. Do you have a picket fence account or another Mom Blog account that you need votes on? You can get them here this weekend If it goes well and you prefer the Vote link up leave a message letting me know that you would like to keep it!!!

Won't you Please????
Help build our hop and copy the button above and place it somewhere on your site so that others know we're here!
I put a LOT of effort into posting this each week and would love to see more people linking up with us.
If you don't want to place the button on your blog could you at least send a tweet about our hop or share it with your friends on facebook?
Thank you to everyone in advance for helping spread the word about the "Super Mega 7 Blog Hop" to others!!!
Please leave a message if you are a new follower so that I can follow you back.
I could be late this weekend getting back to you because I'm going to be winning a car tommorow! LOL
POSITIVE THINKING IS THE ONLY WAY TO WIN!!!!!!
Everyone who links up today will be entered into our giveaway this week! ONE winner will be featured next week and receive a placement in one of our ad spots!
DO YOU WANT TO WIN A BRAND NEW 2011 CHEVY CRUZE?
SIGN UP NOW FOR YOUR CHANCE TO WIN AT
THIS IS WHERE I'M GOING!!! I'm SOOOOO Excited!!!
Congratulations to
Racing and Saving Mama
Kristina @ Racing & Saving Mama is the Featured Blog Hop Winner this week! Thanks for linking up each week with us.
I love her blog, she is just so darn motivating to me! I added a link in the new voting section, and here, for her! Kristina is in the running for an awesome prize and needs our help. Please vote for her. I'm sure she'll return the favor!! She deserves it!!!
Thanks for posting about your feature spot to your readers Kristina! :)
Hi, My name is Kristina and I have a 4 year old boy and a 1 year old daughter. Their names are Levi and Nola and they keep me hopping. I've been really fortunate to be able to stay at home with them and watch them grow.
I love clipping coupons and finding amazing deals. I have been sharing the deals I find with my family and friends for years. Some of my computer savvy pals kept suggesting that I start a blog or website and I have finally listened.
to read more about Kristina,
click here...................
We recently changed to inlinkz because they are free to list basic links. You can get your free linky's by clicking on the frog! (I LOVE THAT LITTLE FROG!)
Monday Blog Hops, Tuesday Blog Hops,Wednesday Blog Hops, Thursday Blog Hops, Friday Blog Hops, Saturday Blog Hops, Sunday Blog Hops,
Just find your hop day and enter your button!
Please leave a note and I promise to follow back! I love meeting new friends!
Don't forget to visit all of the other amazing blog hops on our blog hops lists by checking here!
Be sure to add your blog hop on our running blog hop list!