Friday, July 22, 2011
Welcome to Lucas's Journey w/SPD's
Sensational Weekend Social!
SUPER MEGA 7

8

(for now) WEEKEND BLOG HOP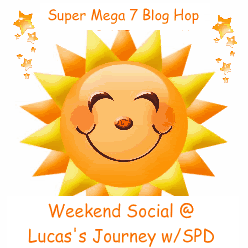 Everyone who links up today will be entered into our giveaway this week!* One winner will be featured next week and receive a placement in one of our ad spots!
*ALL THAT WE ASK IS FOR YOU TO SHARE IT WITH YOUR FOLLOWERS IF YOU ARE CHOSEN!!!! (We are linking up here to GAIN and FOLLOW new friends) I don't expect anyone to copy our whole hop into their blog, just a fun post saying that you were featured here so that we can meet some of your friends too!)
*If you are NOT interested in participating if chosen, please leave a comment below so I can choose another winner that would like the opportunity!
Congratulations to this weeks featured blog!
Welcome to my Mommy Blog! My name is Shanee, I have 2 kids, a husband... okay so 3 kids, and 2 dogs. I am a work at home mom. I operate a daycare center out of my home. As in every home, money is always tight, so my blog focus will be saving money and product reviews and giveaways!
Be sure to stop by "Adventures of A Thrity Mommy"! Shanee has some AWESOME tips for saving money and tons giveaways on her blog!!
Please leave a message if you are a new follower so that I can follow you back. Also if you vote for us leave a note so that I can vote for you too : )
Don't forget to add your Buttons to our NEW FREE AD page by clicking here or visiting,
http://lucasjourneyspd.blogspot.com/2011/06/advertise-for-free-add-your-buttons.html
Don't forget to visit some other wonderful weekend blog hops, which you can find by checking here! Have a blog hop and want to share it? Be sure to add your blog hop on our running blog hop list!