Sunday, September 5, 2010
Day FIVE! Only 25 days left to enter! Please take a few minutes to help our mission and win some fabulous prizes! http://lucasjourneyspd.blogspot.com/2010/09/sensational-celebration-giveaway-entry.html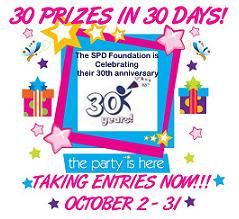 I have to say I am so thankful for the many wonderful people who have graciously decided to help our mission by placing our event button on your blog and entering our giveaway to help with our pledge to contact our media networks that we have listed. I am just blown away at the selflessness that has been shown by so many people! THANK YOU, THANK YOU, THANK YOU!
With your continued support I really believe that the media contacts that we have listed are starting to see just how many parents, families, and friends have been touched in some way by SPD and our desire to raise awareness for it! Most importantly that we want help in showing the world the massive efforts that the
SPD Foundation
supplies to so many parents who go to them for help everyday!
Some people can talk the talk about wanting to do something but you are walking the walk by your actions in participating in our efforts! Thank you!
Day five of our September entry opportunities for our October Giveaways. Its so easy and your helping so many kids by participating!
Post our event button on your blog/website and get your
1st entry into our October giveaways!
Don't forget to get your
Rivershark tickets here!
Also, if you would like to get an
SPD badge
for your little one get them here! $3.30 (includes shipping)