Thursday, September 16, 2010
Day Sixteen! Only 14 days left to enter! Please take a few minutes to help our mission and win some fabulous prizes! It only takes ONE email or ONE TWEET to enter! That's it and you're entered to win over $1,500 so far in prizes in October!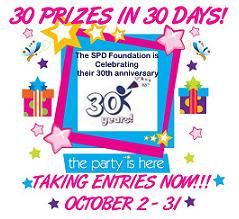 http://lucasjourneyspd.blogspot.com/2010/09/sensational-celebration-giveaway-entry.html
Day sixteen of our September entry opportunities for our October Giveaways. Its so easy and your helping so many kids by participating!
Post our event button on your blog/website and get your
1st entry into our October giveaways!
Don't forget to get your
Rivershark tickets here,
Tickets for this event must be purchased by TONIGHT. Please get your tickets now before they pulled them to sell them to the general public : )
Also, if you would like to get an
SPD badge
for your little one get them here! $3.30 (includes shipping). You will also gain entries into our October giveaways for any purchase/donation that is made. Debbie Lucas's Journey w/SPD http://lucasjourneyspd.blogspot.com