Monday, September 27, 2010
WE MET OUR PLEDGE TO THE SPD FOUNDATION
WE HAVE 31 SPONSORS AND OVER
$2,000 IN PRIZES TO GIVE AWAY IN OCTOBER!
A HUGE THANK YOU TO ALL OF OUR SPONSORS FOR MAKING OUR EVENT POSSIBLE!
Day twenty seven! Please take a few minutes to help our mission and win some fabulous prizes!
It only takes ONE email or ONE TWEET to enter!
That's it and you're entered to win over $2,000 so far in prizes in October!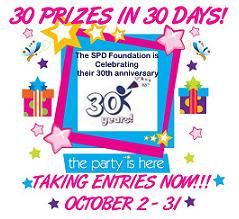 http://lucasjourneyspd.blogspot.com/2010/09/sensational-celebration-giveaway-entry.html
Its so easy to enter and your helping so many kids by participating!
Post our event button on your blog/website and get your
1st entry into our October giveaways!
Also, if you would like to get an
SPD badge
for your little one get them here! $3.30 (includes shipping). You will also gain entries into our October giveaways for any purchase/donation that is made.
Debbie
Lucas's Journey w/SPD
http://lucasjourneyspd.blogspot.com